<<Ignore There is No April Update | HOME | Growing Up Makes Me Wiser, Right?>>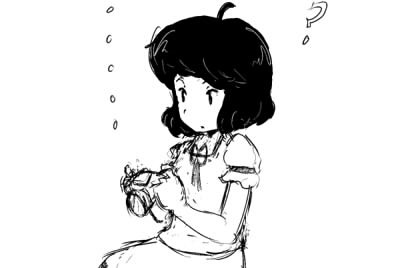 Did you miss her?
Just when I thought this college semester couldn't be as busy as the previous one, it ended up four times busier than the last time.
(The rest of this entry is just me ranting; sorry for the lack of drawings!)
Just to summarize the whole thing: I have to be working on the creation of an actual potential product to become... well, an actual product; I have to work in the organization of another event now dedicated to our college's teachers -implying most of them deserve it-, plus needing to work for the development and printing of a product which content is HD pictures promoting my hometown; and I almost forget that I should be working as well in the production of two television projects, that are already giving me headaches for its production. However, I want to believe I will do well on these. Things can't go wrong, right?
I also forgot that I am still working on an institution dedicated to art and culture -if you are envying me, don't be, in my case, the whole thing is not that interesting-, I have to cover things making presentations in PowerPoint using pictures I take personally with my camera (a Nikon D40x in case you are curious), but to lose the quality at the moment to put them in PowerPoint and exporting the whole thing in JPEG again.
I barely have time for myself, and let me tell you something kiddos, I highly recommend you to choose carefully your goals for the future, sometimes college instead of answering your doubts, it gives you even more questions; I supposedly entered Public Relations to develop a little bit more in... well, Public Relations, but I ended up working in the recording and edition of videos and working for television, plus, I am apparently a designer and a camerapigeon. So... yeah, I don't know what am I supposed to do with myself sometimes.
<<Ignore There is No April Update | HOME | Growing Up Makes Me Wiser, Right?>>
Comments
Post a comment
Trackbacks
| HOME |